Proud to support the launch of the 31st Cyclope Report
Philippe Chalmin, President of Cyclope Circle invites the commodities community to the launch of the 31st Cyclope Report « Easterly Wind, Westerly Wind » which will be held on the 15th of May in the prestigious premises of the Automobile Club de France, Paris.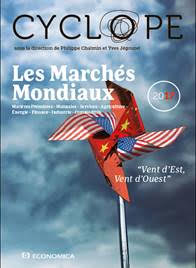 As a business partner of the Cercle Cyclope,
we are delighted and honoured to attend this singular event .
We will be pleased to see other Swiss members in Paris.
If you are interested by the Cercle Cyclope:
contact Violaine Reynier: vr@ampersandworld.ch

About the Yearbook 
The Cyclope Report plunges the reader into the arcana of all of the commodities markets, from apples to zirconium, including textiles, soya, automobiles and even art.
Edition after edition, it has become the essential reference work for this particularly volatile universe. It likewise offers precious background analyses of the weight and responsibility of China, for example, or of the WTO's Doha Round negotiations, or the development of the recycling markets, etc.
Cyclope also offers the reader an overview of the tensions and conflicts of globalisation and the international economy.
The Cyclope Report is produced by an international team of economists, journalists and professionals under the direction of Philippe Chalmin and benefits from the support of more than thirty French companies.
About Cyclope
Cyclope is a study group specialised in the analysis of global raw materials and commodities markets. It takes its name from the Cyclope Yearbook published every year since 1986 by Editions Economica.
Cyclope is headed by Philippe Chalmin (Blog), professor at the University of Paris-Dauphine and a consultant to international organisations (OECD, EEC, UNCTAD).
The study group functions as an international network and brings together more than fifty market specialists from around the world.