The Cyclope Report for July-August is now available on line
Editorial by Philippe Chalmin
Brexit! They did it! A major mistake for the United Kingdom, a chance – perhaps – for Europe if its leaders are able to seize the opportunity. The summer promises to be hot in any case on the European front under the unlikely presidency of Slovakia…
Commodities have reacted little to Brexit, with the logical exception of gold. It is true that the days when London was the hub of international trade in commodities and where its markets and traders dominated the planet are long gone. What remains for London are the precious metals markets. The main commodity markets are now controlled by outside interests that do not hesitate to relocate if necessary…
Subscribe to the Monthly Report to Read the Full Article
Commodity Market Briefs
Rio Tinto copper mine, the price of pork rose, the zinc market, Russian wheat, Ukraine grain exports and much more…
Subscribe to the Monthly Report to Read the Full Article
About Cyclope
Cyclope is a study group specialised in the analysis of global raw materials and commodities markets. It takes its name from the Cyclope Yearbook published every year since 1986 by Editions Economica.
Cyclope is headed by Philippe Chalmin (Blog), professor at the University of Paris-Dauphine and a consultant to international organisations (OECD, EEC, UNCTAD)
The study group functions as an international network and brings together more than fifty market specialists from around the world.
About the Yearbook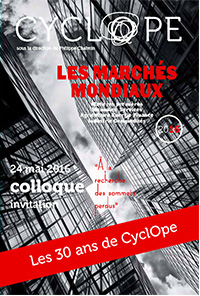 The Cyclope Report plunges the reader into the arcana of all of the commodities markets, from apples to zirconium, including textiles, soya, automobiles and even art.
Edition after edition, it has become the essential reference work for this particularly volatile universe. It likewise offers precious background analyses of the weight and responsibility of China, for example, or of the WTO's Doha Round negotiations, or the development of the recycling markets, etc.
Cyclope also offers the reader an overview of the tensions and conflicts of globalisation and the international economy.
The Cyclope Report is produced by an international team of economists, journalists and professionals under the direction of Philippe Chalmin and benefits from the support of more than thirty French companies.