Gaëlle Hennet is a talented, professional young woman who, 18 months ago, made a dizzying rise to head the editorial team at Sur la Terre magazine. This passionate woman of conviction shares her story with us.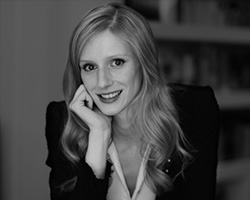 What is the best moment you can remember in your career?
When my editor gave me the opportunity to work as editor at Sur la Terre, hands down. I am truly grateful to him. Looking back, I can see that he took a heck of a risk, particularly given how young I was – I was still an arts student at the University of Geneva when he offered me the post.
If you had to give just one piece of advice to a junior starting his/her career, what would it be?
Keep a cool head, remember that humility is key and understand that building a career involves a certain dose of luck and opportunity. You need to know when to say 'yes', even if that means thinking about things afterwards, and never be afraid to leave your comfort zone. In any case, there really isn't any great secret to it – when you're starting out you have to work hard and show flexibility and diligence.
Do you have a Motto/Lucky charm?
Voltaire wrote that 'Work spares us from three evils: boredom, vice, and need'. What I like about this expression is what it leaves unsaid! It highlights how some people are unable to find any pleasure in their work. In my view, it is important to see work as a way for us to flourish. Personally, I really love what I do.
"It is important to see work as a way for us to flourish"
What do you enjoy the most in your day-to-day work?
I enjoy the variety of tasks and subjects in my work. This diversity, which I also see in my colleagues and contacts, makes managing a heavy workload easier. I get a real high from it – being at the heart of the action with the energy this creates really motivates me.ies.
If you had to do it again would you choose the same career path?
Yes, without a doubt! Having said that, I would definitely choose to study a subject less rooted in the past and more focussed on the present – an economics degree, perhaps. I let myself be guided by passion, without ever asking what I was going to do later down the line and I have been trying to make up for it ever since!
What is your favourite place on earth and why?
I am more interested in contexts than places. I would even say that I deliberately don't have a favourite place – I like experiencing new things far too much for that! It is primarily human relationships and experiences that leave their mark on me, such as the few months I spent in Senegal several years ago.
How would you qualify your relationship with Ampersand World?
Rewarding, constructive and complementary. I really like Ampersand's philosophy and the value it places on the individual. This is what allows us to create variety and build bridges between different fields, by always placing humans at the centre of these synergies.