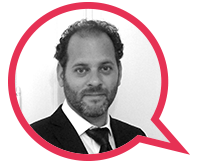 > In few words, could you introduce yourself ?
During my 15 years of experience, I have held various positions in multiple financial institutions: Equity and derivatives broker, commodities broker, multi-asset trader, portfolio manager and trading advisor.
I am a derivative products professional and a technical analysis specialist. I spent more than 10 years working for a commodity asset manager, trading across all commodity sectors with various financial instruments.

 > What is your course about and what is the added value for the people who will take it?
This course is initially made for newly graduated students or people not familiar with the derivatives product environment. You will be able to understand the many concepts surrounding raw materials: hedging techniques, order placement, technical analysis concepts and some option strategies.
> What do you like about the AW Academy ?
AW Academy offers a new way to strengthen its knowledge on a particular topic. In our society, which leaves little time to do anything other than your work, as well as the rise of digital makes the offer of AW Academy very attractive. You will thus be able to work at your own pace for a greater autonomy and so have a perfect mastery of the objectives of the course.
> What advice would you give to someone who wants to become a paper trader ?
Every morning when you wake up, be prepared for this day to be completely different from the day before.
Learn to take losses. Never increase your positions if your capital has not increased.
Never fall in love with your trades, this is the best way not to realize that you are wrong.
>>> "Derivatives Market applied to commodities" is now available on AW ACADEMY
About AW Academy, your E-learning platform dedicated to commodity trading is coming soon
AW ACADEMY® is an e-learning platform focused on physical commodity trading, shipping, trade finance and all related domains.
Learning by doing
Our online courses that teach general and/or specific commodity trading skills in a "learning by doing" format. We believe that learning about commodities is more efficient through simulations and practical case in which each attendant has opportunities to practice trading fundamental directly.
Upgrade your trading skills
Our online courses offers are targeted to people working in the world of trading or willing to learn more about this industry. This includes professional without trading experience, young graduate or HR specialists in the trading sector who would like to develop or up-date their trading skills.
Professionals speakers
A unique feature of the AW ACADEMY® is that it is taught by a team of practicing speakers and other professionals who are selected not only for their professional reputation and accomplishment, but also to reflect the diversity of the trading profession.
Discover AW Academy